Thank you to our speakers, sponsors, and delegates who joined us in Boston, MA for the summit! If you are interested in the 2024 event, please get in touch at info@hansonwade.com
Take a look at what the 2023 meeting explored...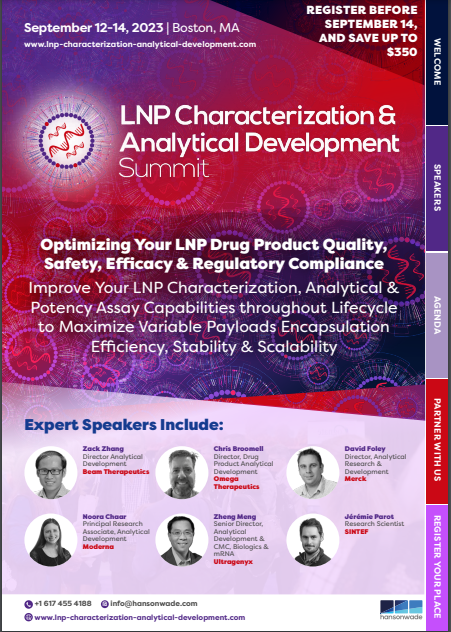 Once you have filled out the form, click the 'download' icon on the top right corner of the file to download it.
Having issues downloading the brochure? Let us know and we'll email it to you instead.
Download the Full Event Guide to See What You Missed:
18+ industry-leading speakers
20+ cutting-edge, technical presentations
3 deep-dive workshops designed to dive-deep into the fundamentals of LNP morphology, analytical platform design, overcoming heterogeneity, maximizing encapsulation efficiency and much more!
Numerous roundtable discussions to share your thoughts and learn from peers on the most critical points of debate
Join industry leaders innovating analytical tools to standardize quality metrics, maximizing precision of data.
Gain unrivalled access to the insights of the most cutting edge technologies available to industry
Revolutionize the approach to potency assay development to adequately present total functionality
Align as a community on regulatory guidance to harmonize analytical practices